The schedules
Leave in the morning to return in the late afternoon and enjoy your trip the best!
ONLINE TICKET PURCHASE AND SCHEDULE CONSULTATION
Tickets can now be purchased on the Internet on the sncf website:
https://www.ter.sncf.com/occitanie
, at station counters or from ticket inspectors for stations with optional stops. In 14 of the 21 stations, the train only stops if you ask for it.
Find the complete list of stations served by the Yellow Train
Since 2004, as part of its transport remit, the Languedoc-Roussillon Region has been working to improve the quality and comfort of this train: new services, station renovations, modernisation of equipment, etc.
This TER provides several daily rotations all year round, whatever the weather conditions. The Yellow Train also has an international vocation! It takes you to discover an exceptional land.
The train operates thanks to an electric traction system. Electricity is provided by the ≪ third rail ≫, a lateral rail to the track. Its 850 volt direct current supply is provided by the hydroelectric complex of the Têt valley and the Bouillouses dam. This operation gives it the status of a green energy train.
The Yellow train fascinates you, let us tell you its history ...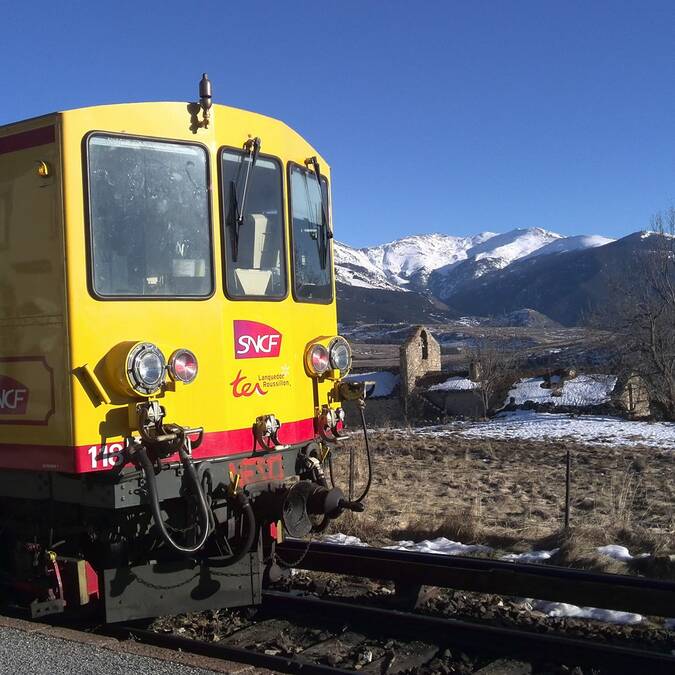 INFORMATION AND RESERVATIONS:
AT THE TRAIN STATION OF VILLEFRANCHE-DE-CONFLENT / VERNET LES BAINS :
T: +33 4 68 96 63 62
AND MONTLOUIS TRAIN STATION T: +33 4 68 04 13 58
FREEPHONE NUMBER TER OCCITANIA T: 0 800 31 31
This train is managed by the SNCF. Tickets can be purchased either on the train or in stations with ticket offices (Villefranche-de-Conflent, Mont-Louis, Font-Romeu, Bourg-Madame, Latour-de-Carol)..